A Call to Adventure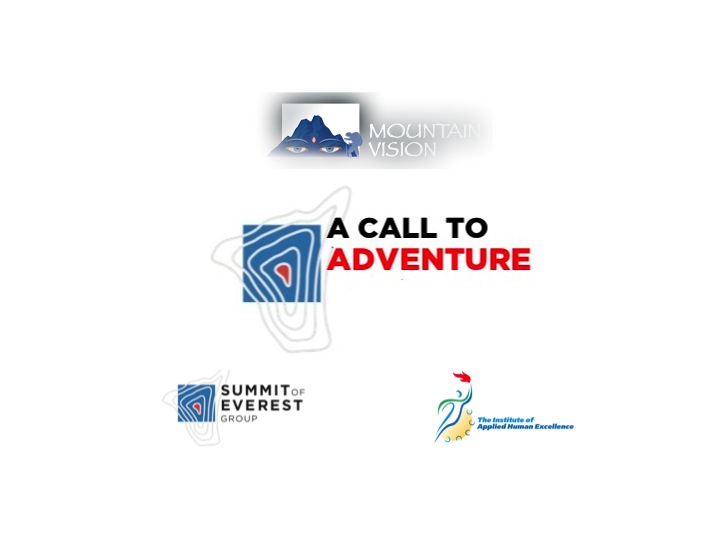 A Call to Adventure is a a partnership between Summit of Everest Group, Mountain Vision, and The Institute of Applied Human Excellence.  These organizations bring the unique perspective of the outdoor adventure setting to the exploration of human performance and excellence.  Venues such as the Colorado Rockies, African mountains, and the Himalayas provide this unique venue.
We organize our time together to provide a variety of personal, interpersonal, and team-based experiences and challenges. The mountains will be our classroom and our office for the days to explore your individual leadership development goals.
Our featured Expeditions include:
Most people are "leaders" in certain phases of our lives – "heroes" are something more.  The purpose of the A Call to Adventure: Hero's Journey is to provide an environment for individuals to discover the "hero" within.  The goal is to more effectively be a hero in the lives of those important to you (business, team, family, self, etc.).  In this adventure, participants will explore the individual, interpersonal, and team skills and competencies required in a challenging, dynamic, yet safe, outdoor environment. (3 days).
The No Barriers Corporate Leadership Expedition is our newest exciting offering in partnership with Erik Weihenmeyer and No Barriers USA.  These three-day transformative leadership experiences help corporate leaders embrace a No Barriers mindset as they discover that we can build the vision, tools, and support systems to harness adversity, creating a professional and personal life that is rich in fulfillment, purpose, and impact.  Included in the expedition is an exclusive "one-on-one" meeting with Erik to learn first hand about the No Barriers mindset, a field experience using the mountains as a metaphor for the challenges of the business environment, and a unique opportunity to work alongside wounded veterans from the Soldiers to Summits program.
Many of our adventurers seek to take their expeditions and desire for personal growth to even higher levels.  For you, we offer our Kilimanjaro Expedition.  Our Expedition Leader, Jeff Evans and his Mountain Vision team, have brought hundreds of such adventurers to the summit of Africa over the past 10 years.  Common among these travelers has been praise for the service and safety of his trips.
While there are many standard themes that emerge through each of our leadership adventures, each adventure is based upon the specific needs, goals and objectives of the individual participants—giving us the collective personality and make-up of the group.   The process of getting to know you better, and more specifically, identifying the core leadership principles and themes that are most important to you, begins with your selection of an Expedition, Registration, and then completion of an Intake Form. Once complete, our curriculum team will tailor the Expedition to the needs of the group, ensuring a successful outcome.